Trainers
 London Ontario Personal Training
Looking to start Personal Training at Forest City Fitness, here is what you can expect:
Detailed initial consultation – get to know you and your lifestyle, eating habits, exercise habits and goals in detail

Complete fitness, health and performance assessments

Design a complete fitness plan based on your needs

MOTIVATION

Adjust and measure progress to keep track of performance

Lifestyle and Habit Management 
For a detailed overview of our Personal Training Options: Contact Us and start the journey to the body you've always wanted with London's best fitness club, Forest City Fitness.
Everything about Randi screams passion. From her extreme fitness training regimen, to her peerless and unrivalled approach of client-trainer relations. Not to mention, an Instagram based marketing genius. Randi is a finite example of refined talent.
A mother, wife, and master-multi-tasker, Randi defies the odds when it comes to her passion for fitness.
"Bring it on!" she says. "I thrive in an environment that is busy. I love a challenge, and the truth is, the more obstacles I have, the more obstacles I have to overcome! It's all in how you look at things, whether you think you can; or you think you can't, you are right!  Change your mindset, and you will change your life."
Randi has been in the fitness industry the majority of her life.  Starting out as a competitive Figure Skater at the age of 8 years old, she quickly moved into the National and International scene at the young age of 10.  Randi competed in both Singles and Pair Skating out of the Champions Training Center in Cambridge, Ont.  From there Randi became a National Cross Country competitor, and loved every aspect of her experience.  From the strict training schedule, to the unquestionably supportive running community London has to offer.
Randi is also a Certified Personal Trainer and a Pound Rockout® Certified Pro. Be sure to stop by the office to ask Randi to share her perspective about training, nutrition, and of course, how to turn a negative day into one that is positive!
One things for sure, you can expect to be greeted at FCF with her big smile, and her dedication towards watching you succeed inside and outside of Forest City Fitness!
Ben Fletcher
Customer Service Manager
Growing up I played as many sports as I could get into. Everything from track and field to football to volleyball. Eventually, as I got older, I gravitated toward volleyball and began to play it at a high level. I was fortunate enough to win a handful of national championships at the club level and won a national bronze at the college level during my career.
Transitioning to post-secondary Volleyball my coach told me I needed to "bulk up" as I was very tall and lanky. I started training and quickly fell in love with fitness and bodybuilding.
After being plagued with a laundry list of injuries I realized I was enjoying the weight training more. Volleyball ran its course for me and now I've switched my focus onto my own training hoping to someday, compete in a bodybuilding show.
I also have a strong drive to help people fall in love with training and fitness the way I did so they can share in all the great benefits it has to give!
I am an honors Graduate of the Fitness and Heath Promotion at Fanshawe College. I am looking forward to helping you become acquainted with the Forest City Fitness team and our incredible members.
I grew up playing most sports, but basketball became my number one quickly. I played all the way through grade school and finished after playing three years in college. From basketball, I developed a love for the gym which is now probably classified as an addiction to the gym.
For the past 10 years I have worked with a high-risk offender population, which also included mental health, crisis and addiction clients. Through this work I have gained a great deal of knowledge working with people in a very diverse population. I supervised the night shift for nearly 9 years ensuring the health, safety and wellbeing of clients under my care. During this time, I also put a great deal of work into ensuring my own mental health and wellbeing were taken care of. I did this by going to the gym, eating healthy and spending time with my family.
Although a newly certified PT through the Certified Personal Trainers Network, I am not new to the fitness lifestyle.
Fitness has been a big part of my life for the majority of my life, and now that I have joined a great team at Forest City Fitness I'm ready to start my new career with a bang!
I'm empathic, patient, dedicated and I'm here for you!
Mary Lou Marchant
Personal Trainer
Hi everyone at Forest City Fitness!
I'm excited and happy to be a part of this terrific team and fitness community. My name is Mary Lou Marchant, and I would like to tell you a little about myself. I come from a figure skating background, and have been a full-time coach and choreographer for 45 years.
I have coached and choreographed National and International Medalists and Competitors, choreographed professional skaters, and directed and produced Professional and Amateur Ice Shows. During this time, I have been responsible for the Off-Ice Training for Club, and young Competitive Skaters, as well as Elite National and International Competitive Skaters.
Before that, I skated, and toured professionally with Shipstad's and Johnson's Ice Follies. Fitness has always been a part of my lifestyle. Figure Skating, Track and Field, Gymnastics, Water and Snow Skiing, Dance, Ballet.
Certification:
Undergrad in Kinesiology
Western Conservatory of Music: Associate and Pedagogy Degree
Skate Canada: NCCP Level 4 Coach , Certified Canskate Coach:
Coach Dashboard Status: In Compliance
Standard First Aid CPR/AED
IFA Certified Sports Nutritionist
IFA Certified Aerobics Instructor and Personal Trainer
Pound Pro International Certified Pound Pro Instructor
Backcheck: Clear:
Fun Fact: I am the Mother of seven children, and Grandmother to 5 energetic and athletic Grandchildren. We bond through our love for Fitness, but also enjoy quiet family time in which we catch up on all the excitement in each of our lives.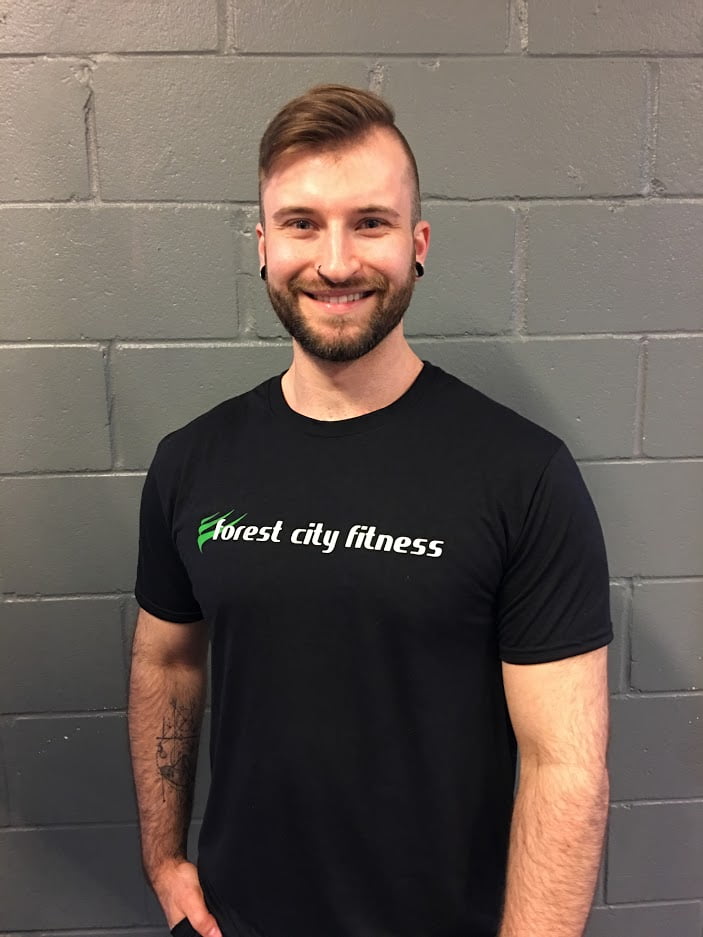 Dan Gebczynski
Personal Trainer
I am a coach, athlete, researcher and educator. I have ten years of training and athletic experience, as well as five years of professional experience as a registered personal trainer and nutritionist. I graduated from the University of Western Ontario (UWO) with a BA in Kinesiology with a specific focus on athletic injury, exercise nutrition and biomechanics.
During my time at UWO, I coached undergraduate tennis, volleyball and speed, power & agility classes. I have also managed a nutritional supplement store for four years on campus where I regularly hosted seminars in addition to using training, nutrition, and accountability to transform 500+ clients through a 90 day challenge. I have worked with a wide scope of clients – from untrained individuals struggling with starting their fitness journey to sport specific athletes, competitive bodybuilders, powerlifters and figure models.
Certifications: BA Kinesiology School of Health Sciences, IFA Certified Personal Trainer
If you are interested in learning more about me, my training & nutrition philosophies, hybrid coaching style and my client transformations, check out my Instagram @DanGebczynski
Jamie Mistry
Personal Trainer
My name is Jamie and I am a new addition to the personal training staff at Forest City Fitness. I am full of energy, optimistic, and genuinely enjoy helping people kick start their fitness journey.
I have over a year of personal training experience, in addition to two years of exercise prescription in rehab clinics. My training style is heavily based on education, functionality and of course – fun! I like to work with clients to design programs which are individualized to their own needs. It is my goal to make you aware of how your body functions and moves, as it is a fundamental part of training. I strive to make every client as independent as possible. I always say, as much as I like you – I do not want to see you forever. Thus, it is in my own interest to make sure you learn the fundamentals of training so you can continue to make life-long improvements!
With respect to education, I obtained an honors BSc (Co-op) in Kinesiology at the University of Waterloo. After my undergraduate degree, I realized I had an interest in human kinetics and rehabilitation. Last September, I was fortunate to get accepted into the Physiotherapy program at Western. I have been in London since, and I am excited to meet new people in the community!
In my spare time, you will catch me playing sports or going on a spontaneous adventure. Despite participating in many sports throughout high-school, I spent majority of my time playing soccer.
I am also an opportunist and will take every chance I get to travel. I have backpacked throughout Europe and Southeast Asia alone, which has consequently given me a handbook of interesting stories to share!
Feel free to spark up a conversation at the gym at any time. I look forward to meeting you!
Credentials: CSEP-CPT
Evan Ravn
Personal Trainer
Growing up in a family of 9, competition in sport was a huge factor in my youth. I played football until high school when I swapped the pig skin out for a volleyball. I fell in love with the sport and after years of playing at a high level I then went on to post secondary education at Fanshawe where I won multiple Provincial and National Gold Medals. At Fanshawe I graduated from Pre-Health Sciences as well as the Registered Massage Therapy Program and worked as the Team Trainer for the Varsity Volleyball Team.
Going hand in hand with sports, training and good nutrition has been a part of my life for as long as I can remember. With my education and experience, I specialize in helping people through the recovery process of injuries as well as creating amazing body transformations to help people love living healthy.
If you're looking to take a step forward in your fitness journey, I would love to have a chat with you and see how I can help!
Evan Ravn
Certified Personal Trainer
Certified Sports Nutritionist
RMT (Registered Massage Therapist)
Marshall Turner
Personal Trainer
Exercise has always been a major component of my life. When I was in high school and prior, sports dominated my free time. From there training just sort of became routine. I played basketball and football, however most recently I competed in the 2016 Golden Gloves.
I Graduated from the University of Guelph-Humber with a bachelor's degree in the Applied Sciences of Kinesiology. I also have a Diploma in Fitness and Health Promotion. Upon graduation I got my CSEP personal training license and have been working with people ever since.
From exercise I have developed more confidence and a greater awareness of my own body.
Fun Fact: It takes approximately 21 days to make an action a routine. In that time, we can be well on your way to a healthier and better you.
– Marshall Turner
Dylan Boyle
Personal Trainer
"Why hello there." (Obi-Wan Kenobi reference). My name is Dylan Boyle and I am an official trainer here at Forest City Fitness. I've been working out at FCF since they've opened to the community! I've worked out at many gyms and I've always felt most comfortable in the FCF environment. The great staff, clean space, no ego, it really feels like a family compared to other gyms in London.
I've competed, practiced and succeeded in sports my whole life. I have done everything from wrestling/ jiu-jitsu, track and field (400m/100m sprints), basketball, and many more! I have a pretty big family, 2 younger brothers, a younger sister, my father and mother.I found my love for the iron around the age of 14. My father showed me some of the basics and now I have an everlasting love for it.
I travelled to Alberta to attend Emergency Services Academy where I took the enhanced firefighter program. I got to train with the very best. Learning how the gear works, practicing search and rescues, break and entering, wielding a hose, and best of all… fighting some fire! I also got the opportunity to climb a 100ft aerial ladder with no protective harness attached… scary! I obtained my certifications in NFPA 1001, 472, 1002, 1051, 1006, TDG (transportation of dangerous goods), and ITLS (International Trauma Life Support). My life goal is to become a firefighter as well as open up a gym of my own some day.
What I offer as a trainer here at FCF is, anything from helping clients lose weight, gain muscle, muscle endurance, etc. My speciality is strength training. I will teach you the fundamentals of the 3 main lifts (Squat, Bench, & Deadlift) and how to skyrocket your strength like you couldn't believe while helping you gain muscle mass and setting you up with a diet to lose some unwanted weight.
I hope you enjoyed learning a little about me. I have great passion for the gym and I would love to share that with my knowledge to help you achieve your goals! If you see me around the gym feel free to ask me any questions (I love talking about gym stuff). If you're interested in training with me, feel free to come talk to me or the front desk management and we can set something up!
I post on my Instagram (dylboyle) daily. This includes my workouts, routines, and tips and tricks you can try the next time you're in the gym!
Thank you for taking your time to read my bio!
"Strength is never a weakness, weakness is never a strength."
-Mark Bell
David Leek
Personal Trainer
Dave Leek is a certified strength coach and personal trainer working out of London, Ontario. He has been personal training since 2002. Dave holds a diploma in Fitness and Health Promotion from Fanshawe College where he also worked as the athletic trainer for the Men's Varsity Basketball Team. Dave has trained in a handful of different settings (corporate gyms, private studios, in-home, ect.) and is now happy to say that he's part of Forest City Fitness team.
With a strong focus for overall health (physical, mental, emotional and spiritual) Dave has a unique way of connecting with people and helping them tap into their true potential not only in the gym but in everyday life as well.
Dave works primarily with 1on1 clients but also provides online coaching, personalized training programs and custom meal planning/nutritional advice.
If you are interested in learning more about Dave, his style of coaching and to find out what his clients are saying about him, check out www.whosyourtrainer.ca or book a consultation with him by emailing to daveleek@whosyourtrainer.ca
Amir Rasinlic
Personal Trainer
Hi, I'm Amir Rasinlic and since 2002 I have been helping people achieve their fitness goals and help them realize that they can have a balance of looking and feeling better while still being able to eat some of the things they enjoy, including chocolate and bacon.
Most of my clients are over 35, tired of fad diets and hard core "soul crushing" workouts that leave them feeling broken and defeated.
My clients come to me wanting to look and feel healthier and overall better. Most have some kind of joint or muscle issue that has been nagging them for years. My typical client is looking for a safe, effective and a long term solution that improves their quality of life. This is what I aim to do with a personalized fitness experience for each client.
Outside of helping people get fitter and healthier, I am a married father of two boys, a 1 month old and soon to be 4 year old. When I am not running after my boys, I enjoy weight training, boxing/kickboxing training and golf. Like many 40+ year olds, I aim to have enjoyable workouts without breaking myself like I did in my younger years. I like to challenge myself but pay attention to my body and take my lifestyle stressors into account when planning my programming so not to aggravate my previous injuries.
If you are interested in chatting with me about your goals and seeing how I can help you with your fitness goals and have that life balance too, contact me at www.trufitness.ca or admin@amirrasinlic.com and I would be happy to help!
Sincerely,
Amir Rasinlic
B.Ed., CPT, Fascial Stretch Therapist, NCCP L2 Boxing Coach, WAKO Kickboxing Coach
Rick Hunter
Personal Trainer
Rick has been involved in personal training for many years now. He started his career attending Brock University in the Physical Education program and completed his degree with Honours. He has completed certifcations with Can-Fit Pro, TRX and Precision Nutrition to name a few. His specialties range from fat loss to hypertrophy training as well as athlete fitness. Strength and conditioning as well as nutrition coaching are what his clients receive with great results.
Rick completed his Bachelor of Education and Masters of Education degrees at Western University. He is a teacher in Thames Valley and works with high school students. His passions to both learn and educate within health and fitness are what keep him active in the gym as well as classrooms.
Rick grew up playing competitive baseball. He still enjoys baseball, playing in a softball league every summer, and plays hockey in the winter. He has completed many half-marathons and mud-runs such as the Badass Dash.
Rick is excited to bring his unique education and sports background to Forest City Fitness. He is very easy going and full of information so if you have a question for him don't hesitate to ask.
Rick can be contacted via email at rickmjhunter@gmail.com or phone at 519-860-6977.